FOIA
---
The Thorn Creek Basin Sanitary District, a municipal corporation, is a special purpose governmental agency that provides wastewater treatment service to approximately 100,000 people. The office and treatment works are located at 700 West End Avenue, Chicago Heights, Illinois, 60411.
The District is authorized to discharge into Thorn Creek under permit #IL0027723 granted by the Illinois Environmental Protection Agency located at 1020 N. Grand Ave. E., Springfield, Illinois 62794-9276.
The District's operating budget for the fiscal year ending on April 30th, 2018 is $5,351,400.
A three member Board of Trustees governs the District. The trustees are appointed by elected state legislators representing the entire District. The trustees serve three year terms.
Current trustees:
Bernadette M Morrison, President-Treasurer
Francisco Perez, Vice President
Raymond C. Robertson, Clerk
Corporate counsel for the District:
Eric Stach

FOIA Officer:
Jennifer A Hindel
The District has 27 full time employees and 3 part time employees organized according to the following chart: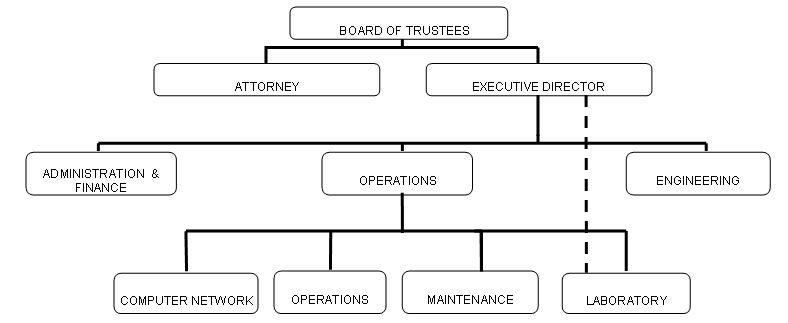 ---
All FOIA requests are fundamental obligations of Thorn Creek Basin Sanitary District and is a primary duty of the District.  The presumption is that records are open to inspection and copying.
FOIA requests will be in compliance with Public Act 96-0542 and the response time will be within 5 business days after the receipt of the request.  If the request cannot be fulfilled due to reasons listed in ILCS 140/3 (e) the response can be extended for no more than 5 business days unless agreement is reached in writing between Thorn Creek Basin Sanitary District and the requester.  Day 1 is considered to be the day after the receipt of the request.  Response for commercial purposes will have a 21 business day response time.
Please make your requests for inspection or copies in writing and submit via personal delivery, mail, telefax, or other means available to (see below).  The purpose of the request is not necessary unless it is to determine whether the records are for a commercial purpose or whether to grant a request for a fee waiver.  The Thorn Creek Basin Sanitary District FOIA Officer will review all requests.
Click here for an Optional FOIA Request Form
Immediately available documents include:

Current Bid Contracts
Board meeting minutes from the most recent 12 months
Budgets for the last 5 years
Sanitary District Act of 1917
The Fees & Charges of the Thorn Creek Basin Sanitary District Ordinance
An Ordinance Establishing a User Charge System
An Ordinance regarding Environmental Remediation Wastewaters
Annexation and Sewer Connection Ordinance
Industrial Pretreatment & Sewer Use Ordinance
An Ordinance Establishing Limits on Infiltration & Inflow
An Ordinance State Officials and Employees Ethics Act
An Ordinance Promulgating Standing Rules
Budget & Appropriations Ordinance (Current)
Ordinance Est. Recapture Fees and Chrgs for Connection to S.E. Trunk Sewer
Treasurer's Report
---
Requests for information should be addressed to:
Thorn Creek Basin Sanitary District
700 West End Avenue
Chicago Heights, IL 60411
708-754-0525
  or
e-mail:  FOIA@thorncreekbasin.org
Cost of reproduction:
The first 50 pages of black-and-white:  no charge for legal or letter size paper. After 50 pages of b&w legal or letter size paper:  $0.15 per page. Color & other than letter or legal size paper:  Actual cost for reproducing the records.
General Information: